Over 800 people attended the Copenhagen Fashion Summit.
These included brands, NGO's, consultants, students and companies that provide solutions to environmental issues created by the fashion industry.
The summit started with Bill McDonough; author of Cradle to Cradle: ReMaking the Way we Make Things, pointing out that being less bad is not being good, meaning that we should focus our sustainability efforts on restorative actions rather than striving for zero, such as zero waste and zero discharge of hazardous materials.
One of the highlights of the summit was the need to adopt a Circular Economy, which is a new way to make, use and dispose of products. Today, we rely on a Linear Economy, where raw materials are collected and made into products, which are often discarded after they have been used. Over 80% of the 150 million tonnes of clothing and shoes sold every year end up in the landfill. According to the Pulse of the Fashion Industry Report, commissioned by The Global Fashion Agenda, apparel consumption is projected to rise by 63% to over 102 million tonnes by 2030. The industry needs to address its environmental and social footprint!
One theme from the summit was the need to collaborate with others to fundamentally shift the way we make, use and dispose of apparel. It was refreshing and inspiring to see Kering, Target and H&M sit together and agree that collaboration is the path forward.
There are several business models that embrace the Circular Economy.  These are shown in the butterfly diagram, created by the Ellen MacArthur Foundation.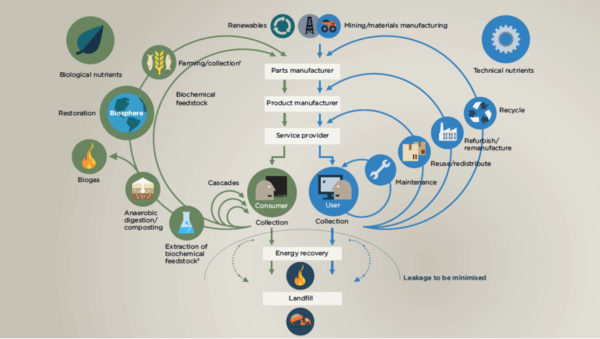 Below are examples of companies that have adopted strategies that support this approach. These include:
Share
The sharing economy has taken off with for Airbnb and Zipcar. Now Mud jeans, a Dutch brand, are allowing its customers to lease jeans. Pay a member fee, receive your jeans, pay a monthly fee and then when you're done with them, return to Mud jeans and get a voucher to put towards another purchase.
Circular Fashion – Maintain/Prolong
Patagonia prides itself on selling high quality clothes that last a long time. They launched Wornwear where you can buy used Patagonia garments that are functional or need some minor repair. The garments are cleaned, repaired and then resold.
Circular Fashion – Reuse
The Renewal Workshop, an Oregon based company, that partners with, and takes excess inventory from its partner brands such as Prana. Depending on the state of the discarded product, they turn it into
Renewed apparel
Upcycled materials
Recycled fiber
Each garment is repacked and labeled with the Renewal Workshop label.
Circular Fashion – Refurbish
Eileen Fisher gave a wonderful presentation about its refurbish strategy known as Fisher Found. The company takes back old Eileen Fisher garments, sorts them into those that can be repurposed into something with more value and those that must be recycled.
Since showcasing 500 pieces last year, they have opened a small factory in NY where they refurbish clothes into entirely new designs, adding more styles and sizes, and collecting data to inform even better decision-making.
Circular Fashion – Recycle
I:Co, based in Germany, has developed a take-back system and logistics network for post consumer apparel waste. It has partnered with many brands including H&M to recycle unwanted clothes. Customers drop off old clothes at H&M. I:Co sorts the clothes by hand and determines how they will spend their second life.
Some are sold as second hand products, some are recycled through a closed loop process, some are recycled into new fibers and some are down cycled into other materials such as insulation.
As you can see, rubbish (garbage) from one person may have value to another. Brands are embracing this idea. New companies are creating business opportunities and new business models focussing on the logistics of collecting and sorting through products. It's Circular Fashion and it provides a much needed second life and reduces product making its way to landfills. I am sold!
Impacts to your business?
Questions to consider:
Do you recycle your garments after use?
Is the Circular Economy an important part of your sustainability strategy?
For help with any issue associated with sustainability and chemicals, contact Amanda Cattermole at (415) 412 8406 or Amanda@cattermoleconsulting.com. We can help you develop powerful solutions to protect your company and brand reputation, which will result in safer products manufactured in cleaner supply chains.

Tips and Insights contains information to help you make informed chemical management decisions. Each post highlights a particular topic and includes questions you may want to consider for your business.

Posted on: May 22, 2017 in