People in many cultures treasure cosmetics. Unfortunately some are made with hazardous chemicals.
The industry provides us with a host of products to make us feel healthier, cleaner and more attractive. We buy endless amounts of cosmetics and cleansing products for skin and hair. Our bathroom cupboards are living proof of our purchases.
But many cosmetics contain chemicals hazardous to our health and the environment.
Recently, I have had the opportunity to work with Janet Nudelman, Director of Program and Policy at the Breast Cancer Fund who also manages the Campaign for Safe Cosmetics. Janet is passionate and committed to the supply and availability of safer cosmetics. In the last 10 years, since the Campaign started, an 11 billion dollar safe cosmetics industry has been established, which is over 15% of global cosmetics sales!
What is the Campaign for Safe Cosmetics?
The Campaign for Safe Cosmetics coalition was launched in 2004 and is a project of the Breast Cancer Fund. The campaign works to protect the health of consumers, workers and the environment through a variety of means including:
Corporate accountability and sustainability campaigns
Public education and engagement
Legislative advocacy designed to eliminate dangerous chemicals linked to adverse health impacts from cosmetics and personal care products.
What are the key elements of the Campaign?
The campaign focusses on three strategies:
Full disclosure of ingredients in product formulations including fragrances.
Avoid the use of cancer-causing chemicals, reproductive toxicants and other unsafe chemicals.
The Campaign for Safe Cosmetics provides helpful information.
I like the website because it is filled with useful information. It provides visuals in an easy to understand format and targets to teens, an important group given their fascination with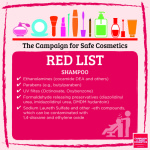 beauty care products. For example, you can find:
A red list that shows a list of chemicals to AVOID in products such as shampoo, conditioner, sunscreen, hair color, powder and skin lighteners.

Successes
The campaign has been instrumental in the following "big wins"
Reformulation of products, targeted to the U.S. market, to global formulations that adhere to the strictest guidelines
Hundreds of companies fully disclose ingredients
Major retailers require national brands on their shelves to eliminate chemicals of concern, and practice a higher level of ingredient transparency
Increased demand for safer products in the marketplace.
Visit retail stores such as Target with its made to matter collection, or other brands such as True Nature Botanicals, Beautycounter and Juice Beauty to see a wide selection of safer products.
Thanks to these campaigns, we see greater consumer awareness about the need for safer consumer products. They continue to work tirelessly to drive the demand through outreach, education and targeting specific companies to act. Kudos to them!
Impact to your business
Questions to Consider:
Does your company make cosmetics or beauty care products?
Do you need help identifying chemicals of concern in your supply chain?
For help with any issue associated with chemicals, contact Amanda Cattermole at (415) 412 8406 or Amanda@cattermoleconsulting.com. We can help you develop powerful solutions to protect your company and brand reputation that result in safer products manufactured in cleaner supply chains.

Tips and Insights contains information to help you make informed chemicals management decisions. Each post highlights a particular topic and includes questions for you to consider .

Posted on: Oct 23, 2015 in